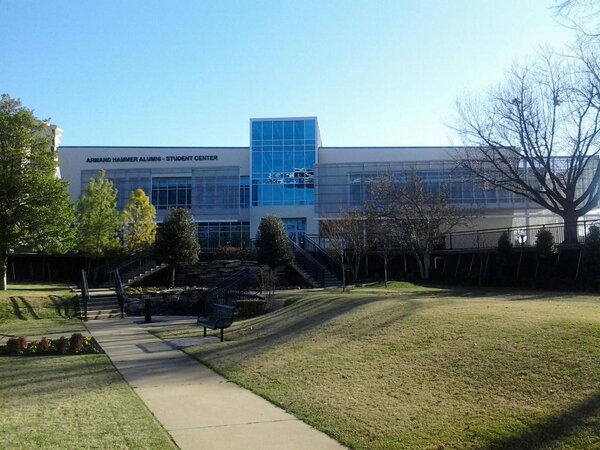 This weekend was homecoming at my alma mater,
Oral Roberts University
. It was something of a triumphant weekend for ORU, too, because not only was it the grand opening of the beautiful new building you see at right, the
Armand Hammer Student-Alumni Center
, but it was a celebration of the selection of a new president-elect for the school,
Dr. Billy Wilson
. The outgoing president,
Dr. Mark Rutland,
was an interim president from the start, and his work during his time at ORU has been nothing short of game-changing.
In 2007, this same school announced that it was $55 million in debt. To say that the doors were in danger of closing forever is absolutely
not
an exaggeration. A wealthy family from the Oklahoma area stepped in and donated a huge hunk of money to eliminate that debt, but they added a stipulation: the leadership of the school would have to be reorganized, including the selection of a new president. Dr. Rutland was brought in and a new Board of Trustees was created. Amazing strides were made during the next five years under this new leadership, and now ORU is, to all appearances and with no reason to think otherwise, better off than it's been in a long time. I would say without reservation that the school has every indication of being in better shape now than it was 20 years ago when I graduated. The buildings are being kept up, technology is being brought up to date, there has been four straight years of enrollment growth, and student morale seems high. Plus, there is that new $12 million building that was built in one single year with dollars donated by alumni...
debt free
.
Visitors to the ORU campus over the years have often reported feeling a sense of peace when they walked around the property. As I was walking across campus after leaving a homecoming event Saturday, I noticed that I could feel that peace; after a lot of transition and change, ORU is flourishing, and God is still clearly in focus. And it struck me that there is quite a contrast between what is happening at ORU - unity of vision, economic advancement and progress, a heart turned toward God - and what seems to be happening across much of this nation (see
my recent blog post about praying for things to get better
!) In the United States right now, we're seeing divisive partisan politics, economic upheaval, and in general, people
not
seeking God's help. At ORU, we're seeing unity of vision, financial accountability and responsibility, and a new student-initiated emphasis on prayer.
The contrast was, for me, striking. ORU is a microcosm of what God can and will do for His people when we seek his face (and walk in His wisdom in areas like finances). Just as God has been providing for ORU, a school founded to train students to live their lives for Him, in a tough time... and just as God provided water for His people who were wandering around the desert way back in the time of Moses... God can provide for each of us. I'm not at all saying that seeking God will make your life an instant utopia or that there are never problems for the Christian, but I am saying that we can each have the peace present in our lives that is present on campus at ORU. Streams of water in the desert. Peace in the midst of the storm. I've seen it this weekend. You can see it too.